Dry Aged
About Dry Age Beef: This process involves considerable expense, as the beef must be stored near freezing temperatures. Also, only the higher grades of meat can be dry aged, as the process requires meat with a large, evenly distributed fat content. For these reasons one seldom sees dry-aged beef outside of steak restaurants and upscale butcher shops. The key effect of dry aging is the concentration and saturation of the natural flavor.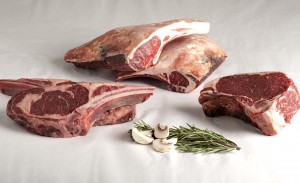 The process changes beef by two means. First, moisture is evaporated from the muscle. This creates a greater concentration of beef flavor and taste. Second, the beef's natural enzymes break down the connective tissue in the muscle, which leads to more tender beef.
Dry aging of beef is rare in super-markets in the United States today, due to the significant loss of weight in the aging process. It is found in high-end steakhouses and at Specialty Meat Purveyors like Prairie Harvest.